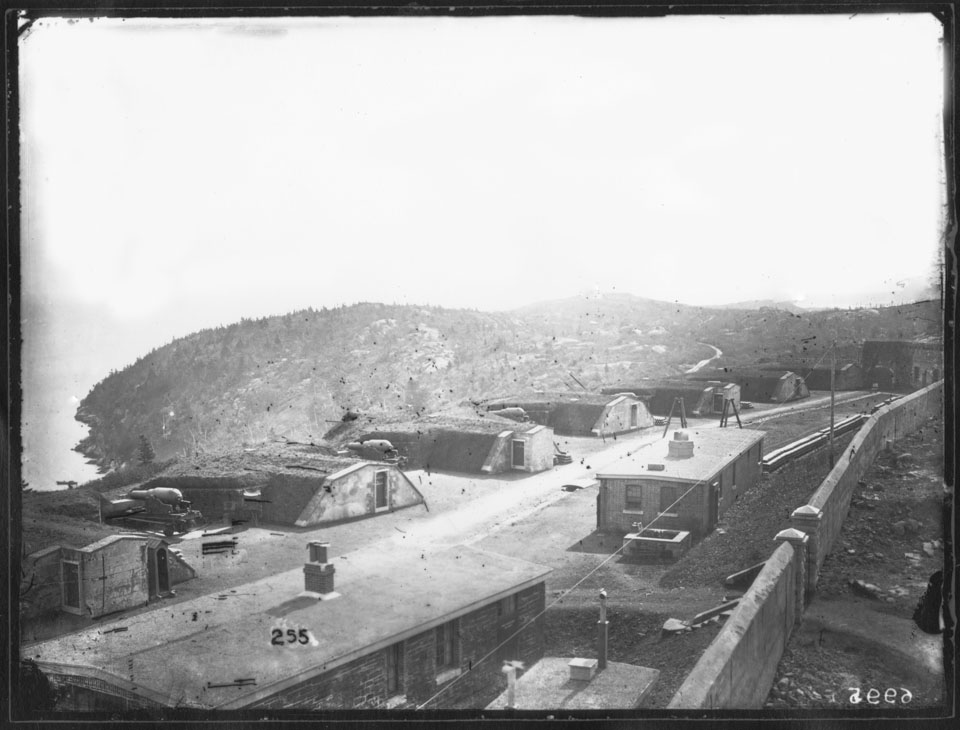 Nova Scotia Archives
The Royal Engineers in Halifax
Piers note: No. 255. York Redoubt: General View of South Gun Position (Battery of 9" R.M.L. Guns) from near West Gate and Artillery Store to South Caponier; showing numbers 1 to 6 of the eight 9" R.M.L. Guns on traversing platforms, with intervening Expense Cartridge Stores and Expense Shell Stores. To right are West Wall and Gate (closing gorge of work) and inner part of South Caponier and South Gate in distance. Within wall, left to right, are (a) Artillery Store and Latrine in front, (b) Ash-pit, (c) Brick building containing Meat Store, Wash House, Coals, Store for Field Forge, etc. In distance to left is Sleepy Cove with Sandwich Point beyond and granite hill above, and Road to Herring Cove. On hill three inches from right of view, was later built Sandwich Battery. Position Hill is out of view to right. About 1880. Looking South-southeast, from top parapet of Duke of York's Tower.
Date.: ca. 1880
Reference: Royal Engineers Nova Scotia Archives number 6995 (Piers 255)
Nova Scotia Archives — https://archives.novascotia.ca/royalengineers/archives/
Crown copyright © 2023, Province of Nova Scotia.