Mi'kmaq Holdings Resource Guide
Copy of Treaty of 1779 signed at Windsor between John Julien, Chief and Michael Francklin, representing the Government of Nova Scotia.
note: transcription publicly contributed - please contact us with comments, errors or omisions
said District;
That, we will not hold any correspondence or intercourse with John Allan, or any other Rebel, or enemy of King George, let his Nation or Country be what it will
That, we will use our best endeavours to prevail with all other our Micmac Brethren throughout the other parts of the Province, to come into the like measures with us for their several Districts
And, we do also by these presents for ourselves, and in behalf of our several Constituents hereby Review, Ratify and Confirm all former Treaties entered into by us, or any of us, or these heretofore with the late Governor Lawrence, and other of His Majesty King George's Governors who have succeeded him in the Command of this Province.
In consideration of the true performance of the forgoing Articles, on the part of the Indians Affairs doth hereby promise in behalf of Government.
That, the said Indians and their Constituents, shall remain in the Districts before mentioned, quiet and free from any molestation of any of His Majesty's Troops, or other his good Subjects in their hunting and fishing
That, immediate measures shall be taken to cause Traders to supply them with ammunition,
clothing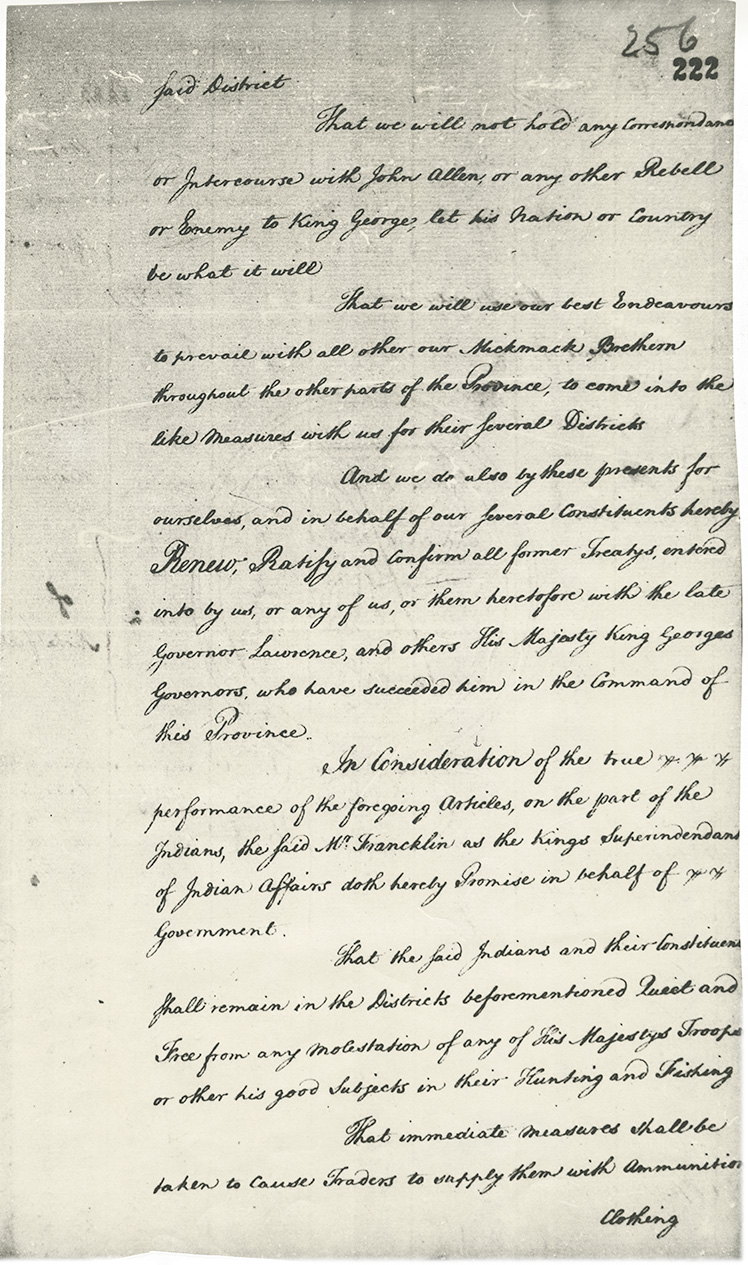 Signed at Windsor, NS, 22 September 1779 by John Julien, Chief, and others representing the "Mirimichy", as well as representatives from the "Pogmousche, Restigouche... Richebouctou... and Jedyac," and others together representing those and "all others residing between Cape Tormentine and the Bay DeChaleurs," and Michael Francklin, the King's Superintendent of Indian Affairs in Nova Scotia.
The document was certified as a true copy by Francklin and enclosed in a packet of documents sent from Halifax on 10 October 1779 by Lieutenant Governor Richard Hughes to George Germain, Secretary of State for the American Department at the Colonial Office in London. The Nova Scotia Archives has a photostatic copy of this document, the original of which was received in London on 13 November 1779, and is now in the National Archives (London UK) in the Colonial Office Papers as CO 217, Vol. 54, Item 254.
Transcript is from W. E. Daugherty, Maritime Indian treaties in historical perspective (Indian and Northern Affairs Canada, 1981); Treaty of 1761 (Merimichi tribe) in that publication.
Date: 1779
Retrieval no.: Peace and Friendship Treaties Nova Scotia Archives O/S number 516