Nova Scotia Archives
Mi'kmaq Holdings Resource Guide
---
Letter from Sigogne to John Cope Sherbrooke regarding Muis-Belcher Treaty, Maillard, the Mi'kmaq "Peace-Dance and ceremony of burying of war weapons"
note: transcription publicly contributed - please contact us with comments, errors or omisions
many English people. A hole being dug, the chief at [the]
head of his warriors began the dance with the Casse-Tête [club or mace]
in their hands. They made more sounds that customary and
the chief shewed some reluctance. He had much talk that
was not understood by the byestanders [bystanders] but by the Priest
who came nearer & wispered [whispered] to the Chief to fling his
Hatchet in the hole; The Chief observed that perhaps they
would be oppressed and could not afterwards make war
again. The Priest then told him that if any wrong were
done them, they might take their arms again. Then the [Indians]
flung down instantly their weapons, which were soon covered
with the earth.. So far for the Treaty of Peace.

To that I have joined a copy of the Brevet de Commission
of the Indian chief from the French Government
thinking it might be agreable to Your Excellency.
After the reception of Your Excellency's Letter I went
in a neighbouring wood where I knew that [Jacques
Muice - underlined] son to Francis was laying infirm by old age.
I demanded of him His Father's Credential Letters, which
he willingly delivered.

If I have so much tarried to answer to Your
Excellency, pray do not attribute that to any neglect
from me. I have not received the honor of your most
gratifying answer to the Memorial, till the [beginning]
of May. Mr. Ritchie did not send the Letters &c [illegible]
on his return after the breaking of the assembly, [illegible]
it happened that I was then [?in OR on] a distant [?mission]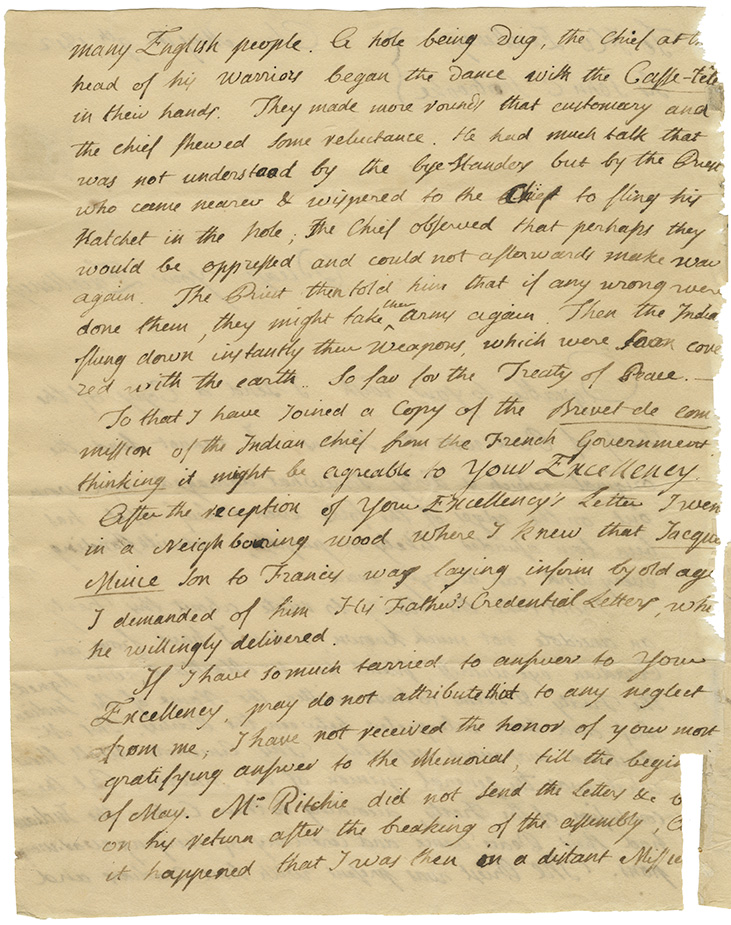 Date: 1812
Retrieval no.: Commissioner of Public Records — Indians series Nova Scotia Archives RG 1 Vol. 430 No. 21
Nova Scotia Archives — https://archives.novascotia.ca/mikmaq/archives/
Crown copyright © 2021, Province of Nova Scotia.