Nova Scotia Archives
Archibald MacMechan
Halifax Disaster Record Office Materials
---
Report of Y.M.C.A.
%>5 pages : 26 x 33 cm.
note: transcription publicly contributed - please contact us with comments, errors or omisions
[embossed letterhead] HALIFAX DISASTER RECORD OFFICE, CHRONICLE BUILDING, HALIFAX, N.S.
5
of their own: while the large assembly hall was crowded to its utmost capacity at the regular Saturday night "Open House" for Army and Navy men. The Billiard Room, Bath Room, Correspondence and Reading Room and all other available rooms were all full and full nearly all the time.
In view of the place which this building occupies, and the services which it renders, it is given only as an "Emergency Hospital", to be released and restored to its normal work as soon as the pressure is removed from the other hospitals in the city. To have had such a building to give for such a humans purpose in such a crisis has been a great source of satisfaction to the Board of Directors, the Staff, and the whole Association. it will serve to give the hearts of the citizens of Halifax, and any temporary loss sustained will surely be more than compensated in the end.
N. B.
Up to January 27, eleven hundred patients passed through.
[handwritten in pencil top right: MG 1 vol 2124 number 45 d]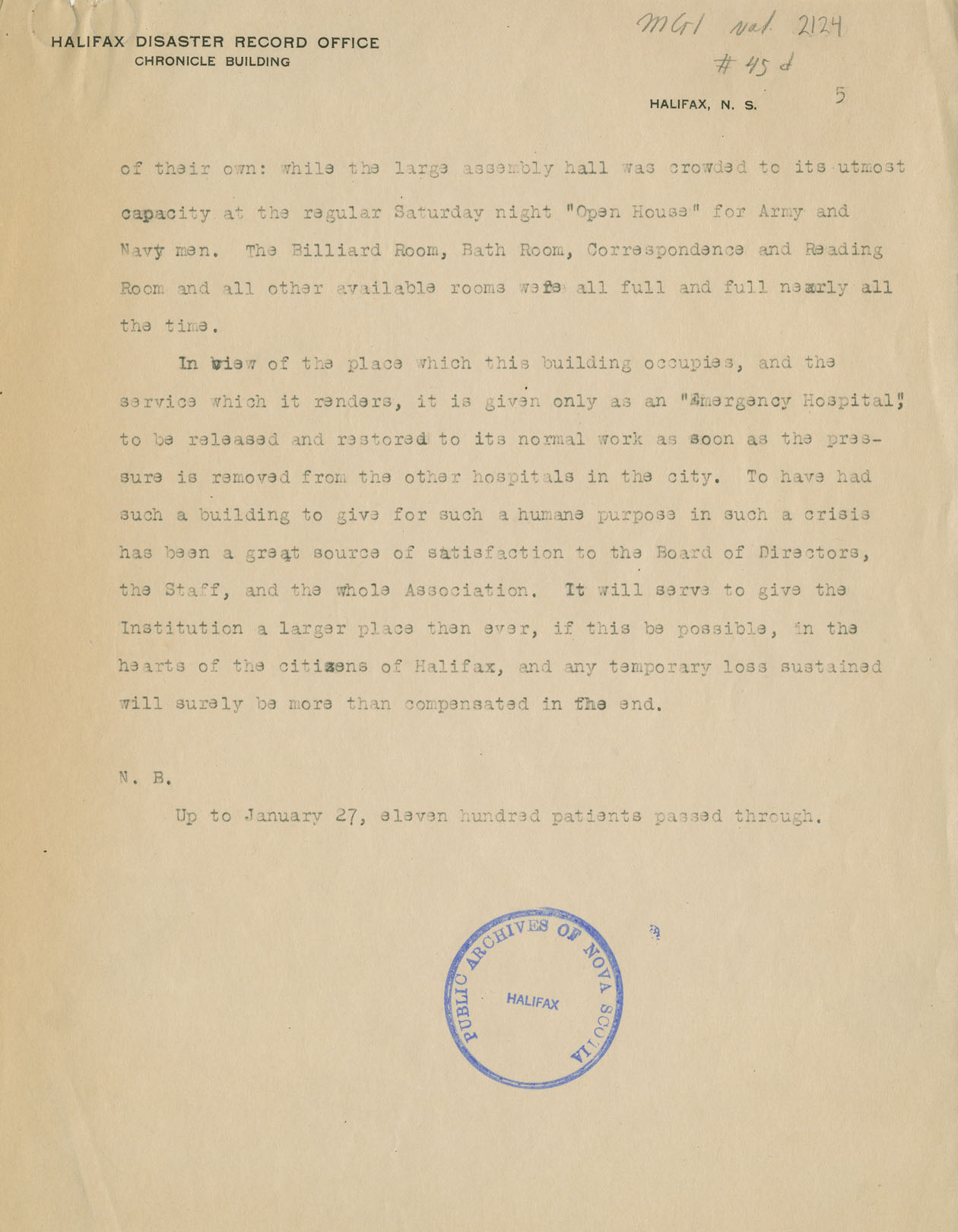 Reference: Archibald MacMechan Nova Scotia Archives MG 1 volume 2124 number 45
Nova Scotia Archives — https://archives.novascotia.ca/macmechan/archives/
Crown copyright © 2021, Province of Nova Scotia.