Nova Scotia Archives
Mi'kmaq Holdings Resource Guide
---
Letter from the Justices in Sessions at Colchester representing the condition of Mi'kmaq in that district. requesting relief for forty Mi'kmaq living in or near Truro.
note: transcription publicly contributed - please contact us with comments, errors or omisions
(125
[left edge torn - ?Co]lchester [fs]
Court of Sessions January Term 1803
The Justices in Session having examined the condition of the following Indians [court?] James Paul and family being five in number, John Paul and five in family, Peter Paul and five in family, Samuel Paul and seven in family, [?Ableuis] Paul and six in family, Joseph Paul and six in family, [Austus?] Paul and five in family, Claud Paul and four in family Bartholomew [Quarret?] and four in family, in all Forty Seven resident at Truro who from the best Evidence the Justices can procure are likely to suffer, unless Supported by the Inhabitants to whom they are very [Troublesome?], beg leave to recommend them to the commissioners appointed for Supplying the Indians if any thing remains with them to be done in their favour, The greater number of the Indians above mentioned have been disappointed of their usual hunting in the Latter part of the Season in consequence of Sickness among them.

James Fullton
Robt. Archibald
James Archibald
William [Cutten?]
Dant. McCurdy
Samuel [Tupper?]

open Court January 4th 1803
S.[?Samuel] G.[?George] W.[?William] Archibald [?J or C]. Peace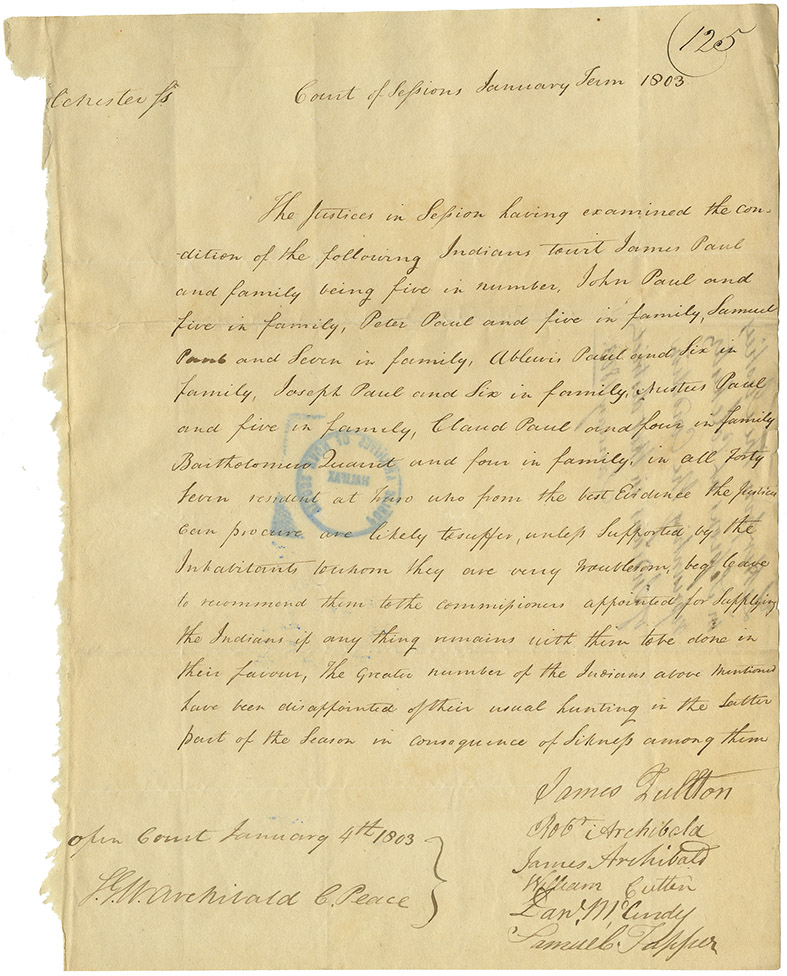 Mentions names of Mi'kmaq heads of families and numbers of family members and gives a brief description of their situation.
Date: 1803
Retrieval no.: Commissioner of Public Records — Indians series Nova Scotia Archives RG 1 Vol. 430 No. 125
Nova Scotia Archives — https://archives.novascotia.ca/Mikmaq/archives/
Crown copyright © 2020, Province of Nova Scotia.