1917 Halifax Explosion
Report of the Visitation Branch of Relief Committee Work by Mrs. G.A. McKintosh assisted by Salvation Army Staff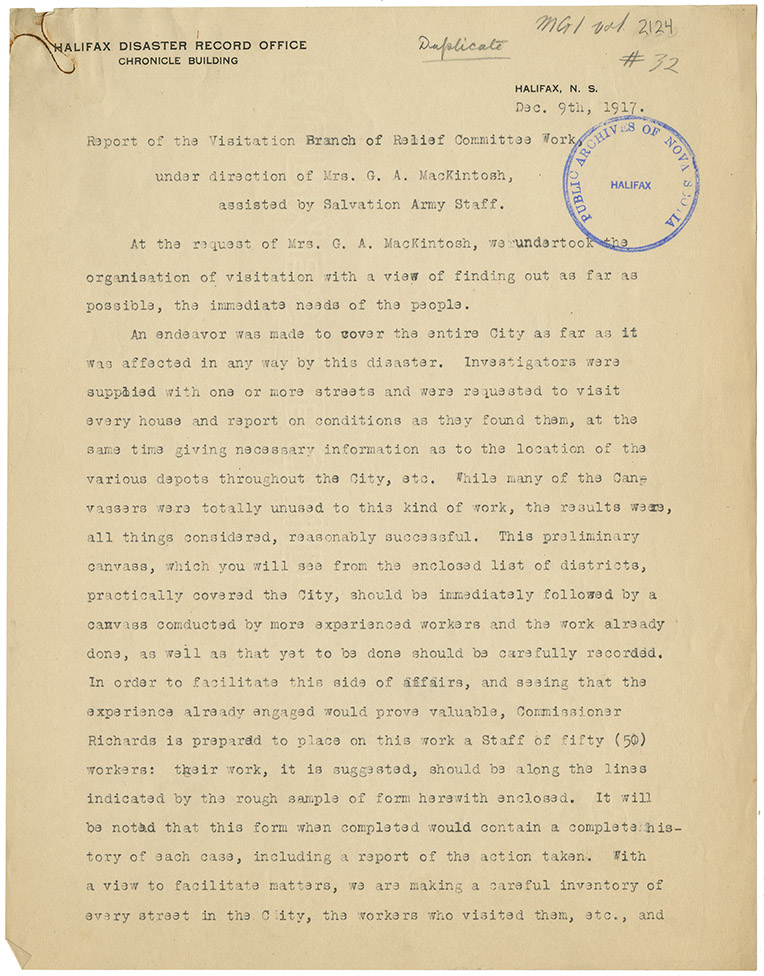 The Report, dated 9 December 1917, gives plans to organize and canvass the entire city with visitations – street by street and house to house – to determine the immediate needs of the people.

Mrs. G.A. McKintosh was Clara P.M. MacIntosh (1882-1958), wife of Dr. George A. MacIntosh, one-time Superintendent of the Victoria General Hospital, Halifax. Born in Londonderry Mines, N.S., she was a daughter of Canon V.E. and Emma Harris. She trained as a nurse at the Payzant Memorial Hospital, Windsor, and entered the service of the Victorian Order of Nurses in Ottawa. Clara Harris married Dr. George A. MacIntosh in 1914 and their only son, Captain Ian MacIntosh, was killed in action in Sicily in July 1943.

During World War I, Clara MacIntosh served as Superintendent of the Halifax Divisions, St. John Ambulance Brigade, and was awarded a vellum vote of thanks by the Grand Priory of the Order of St. John for conspicuous services during the Halifax Explosion.

Clara was author of Attune with spring in Acadie (1931), A song of Nova Scotia (1935), Phantom pirates (1941), and The spirit of the Bluenose and other poems (1951), and a founder of the Halifax Poetry Centre and the Silver Cross Society in Halifax. She also received the Canadian Drama Award for playwriting and production.
Reference: Archibald MacMechan Nova Scotia Archives MG 1 vol. 2124 no. 32-32a