1917 Halifax Explosion
Memorandum for B.M. Armstrong, Controller, R.M.S. Ottawa from Office Supt. R.M. Services, Halifax, N.S. December 13, 1917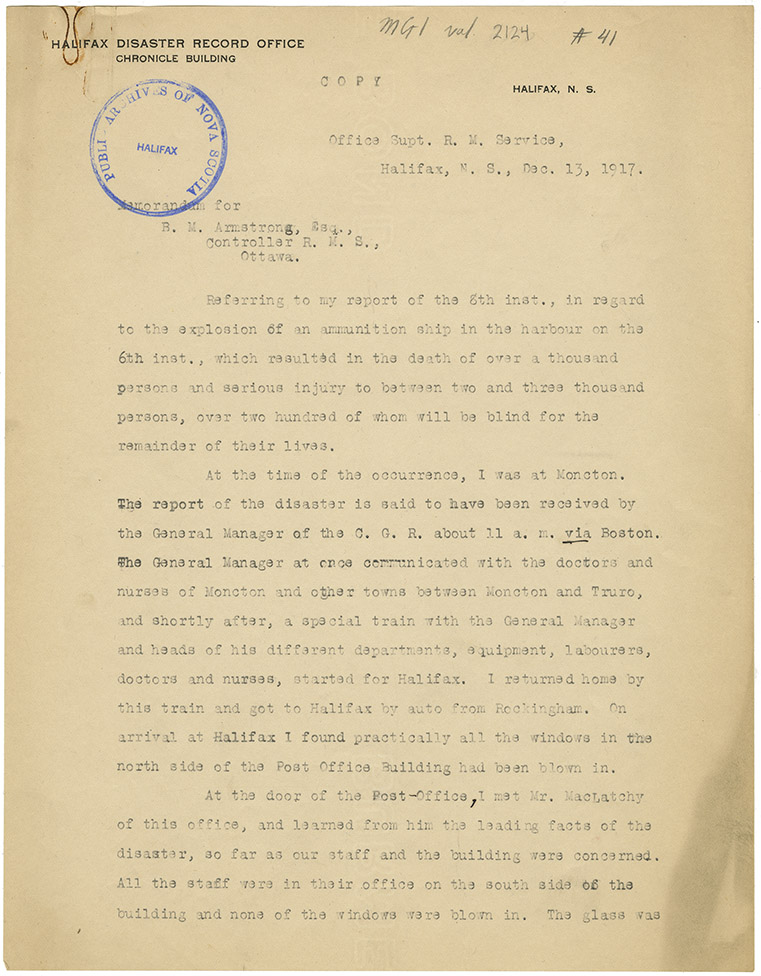 The Report outlines the situation at the Post Office caused by the explosion of an ammunition ship in the harbour on the 6th. It lists employees with injuries and their family situation. The report also states that the mail must go through as many people will be waiting for news.

Frank Pierce Bent (1856-1941) was born in Pugwash and entered the Railway Mail Service Branch of the Post Office in June 1972. F.P. was soon appointed to the Ocean Mail Service and travelled on ocean liners sailing out of Canadian ports. When this service was discontinued, he returned to the Halifax Post Office as Superintendent of the Money Order Branch. In the late nineteenth century, he was appointed Superintendent of the Railway Mail Service until his retirement in 1927.

At the time of the Halifax Explosion, Superintendent Bent was in Moncton, New Brunswick, but returned via a special train with doctors, nurses, labourers, and equipment. The train arrived in Rockingham and Bent continued to Halifax by automobile. The Superintendent met his clerk, A.C. MacLatchy, at the Post Office door, and the latter informed Bent of the principal facts of the disaster.

Following his retirement, Bent travelled extensively in Europe and Africa. His obituary in The Halifax Herald, 3 December 1941, p. 8, noted he was well read, highly intelligent, an interesting conversationalist, one time member of the Royal Nova Scotia Yacht Squadron, and enjoyed hunting and fishing.

Arthur C. MacLatchy (1869-1946), the son of Edward and Sophia (Borden) MacLatchy and a nephew of Sir Robert Borden, was born in Grand Pre. He graduated with a B.A. from Acadia University in 1891 and worked as a Station Agent for several years. MacLatchy entered the Postal Service in 1900 and was employed with it until retirement in 1934. He retired to his beloved Grand Pre, was extremely proud of his farm with an orchard and garden, and took a keen interest in community affairs as a member of the Board of Directors of Grand Pre Fruit Company, and served on the Trustee Board of Horton United Church and the Lower Horton Company.
Reference: Archibald MacMechan Nova Scotia Archives MG 1 vol. 2124 no. 41